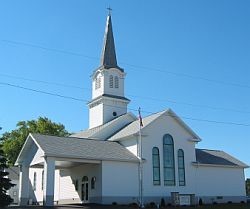 Our invitation to you......
.
At the United Church of Christ...
no matter who you are,
or where you are on life's journey,
you are welcome here!
If you are searching for a church home, we invite you to consider St. John's!
We are handicap acces
sible.
Contact us:
St. John's United Church of Christ, Schwarzwald
W3401 Orchard Road, Elkhart Lake, WI 53020
(rural Howards Grove)
920-565-2631
Email: Schwarzwald@tds.net
Website: www.Schwarzwalducc.org
facebook.com/StJohnsUCCSchwarzwald
Location and Directions:
From Howards Grove, take State Highway 32 north approximately 3 miles to Highland Road. Turn right on Highland Road to Orchard Road, then turn left. St. John's is 1/4 mile on the left.
From Kiel, take State Highway 32-57 south. Stay on Highway 32 when Highway 57 splits off to the right. In Ada turn left onto Orchard Road. St. John's is 1 1/2 miles on the right. Look for the royal blue UCC signs on the Highway 32 and on Orchard Road.